Chifittea
Regular price
€0.00
Sale price
€19.95
Unit price
per
Sale
Sold out
Chi Fit Sleep Tea Blend is an expertly blended tea, relax and enjoy a delicious, calming cup of sleep tea, made from 11 of the finest natural ingredients. Each of which was specifically selected for its unique properties: with Mint, Rose petals as our base, we then added Chamomile, hibiscus, lavender, Jasmine as well as Valerian root and Lily and Flower of Silk tree to create a delicious balance of flavour. 
We at Chi fit tea hope you enjoy the delicious taste, as part of a healthy and active lifestyle.
Tea Instructions: Brew tea bag for 1-2 minutes, recommended 1 cup of tea a day, each teabag can be used a minimum of four times and you can pop the teabag in the fridge overnight and re-use the next evening. 
Ingredients: Mint Tea, Rose Petal Tea, Chamomile, Rooibos tea, Hibiscus, Valerian root, Jasmine, Lavender, Gynostemma Pentaphyllum, Lily and Flower of Silk tree. 
 This pack contains 14 teabags, each tea bag can be used a minimum of four times
Download our free Chi Fitness Healthy Eating Plan:

https://cdn.shopify.com/s/files/1/1917/5337/files/43595-Chi_Fit_Tea-Healthy_Eating_Plan_31e71a34-96c9-4c9b-8e7a-6ee8a0a8f03c.pdf?801601034891624169
Share
View full details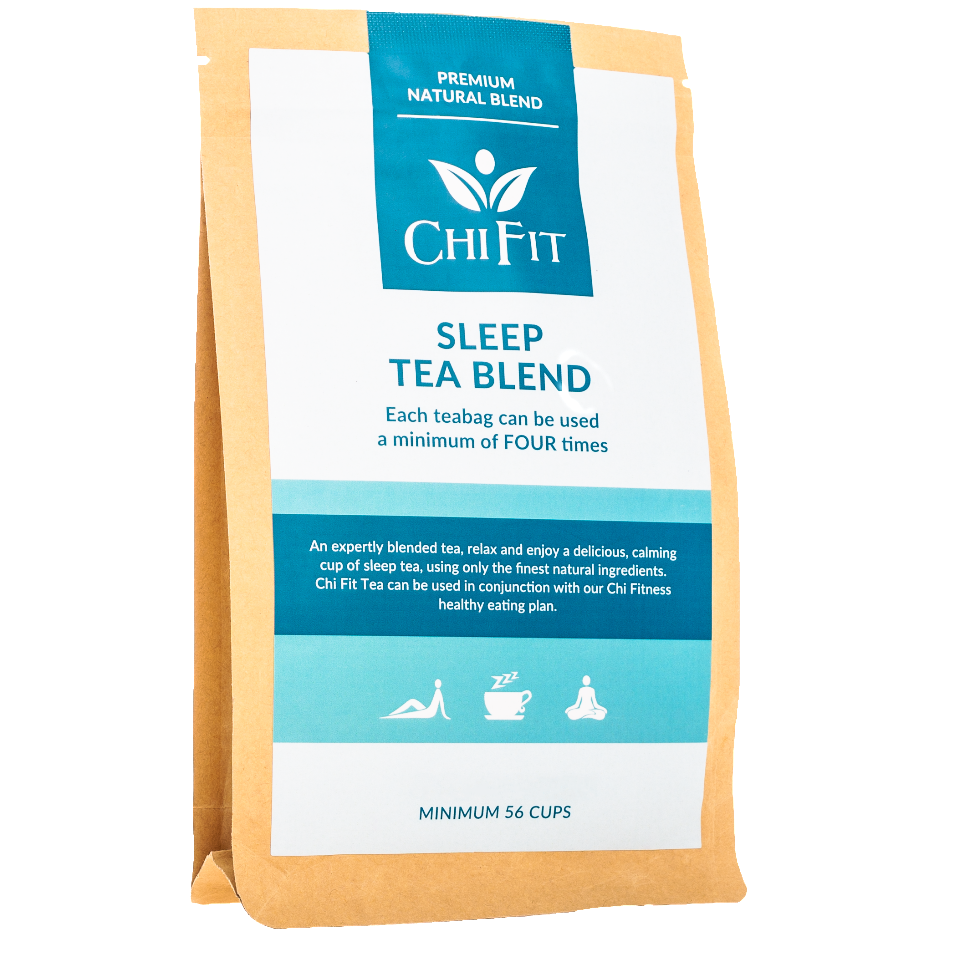 Well worth it
Great value for money as you can reuse the teabag again and again. Really nice before bed and I look forward to buying the daytime one next
Chifittea
Early days yet, but I believe it relaxes me before I go to bed at night
Lovely sleep
After a few nights of having 2 cups of sleep blend before bedtime I am noticing that my head is a lot quieter going to bed. I'm sleeping better and even when I wake up during night it's easier to get back to sleep.
Sleepy nite nite tea ❤️
I drink it every night and I feel so relaxed after I drift in to a lovely sleep... wonderful... thank you for your invention ❤️
Sleep tea blend
I'm new to your products but I am loving the sleep tea ..I have 2 cups before bed and for someone who has problems sleeping this is working for me I noticed a better sleep after only 3 nights using the tea ... can't wait to try the matcha blend .... well done xx I'm giving it 5 starts xxxxx